The amount of rainfall is set to increase and become more frequent due to climate change. Climate adaptation is therefore high on the agenda for municipalities and other authorities. How do we prevent flooding and drought problems and ensure sustainable, climate-resistant solutions? Future-proof construction requires smart solutions in order to keep cities, regions and neighbourhoods habitable. The Rockflow team is happy to help with these solutions.
Rockflow is a water management system with stone wool elements. What if there's a downpour? Rockflow absorbs the water quickly and effectively, and then gradually infiltrates it into the soil or drains it into the sewer. With an absorption capacity of 95 percent, stone wool can absorb significantly more water than other infiltration materials, such as gravel or lava stone. Rockflow can be applied in virtually any place where flooding can occur. Under roads and streets, for example, but also under squares, parks and swales.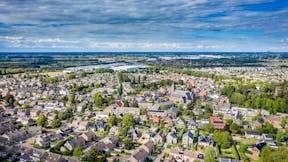 Climate adaptation in the urban environment
Rockflow offers sustainable solutions for the collection, infiltration and reuse of rainwater.