When we talk about climate adaptation and underground water management, stone is probably not the first material you think of. And yet stone, processed in the right form, offers a very durable solution.
Stone wool is mainly known for the fireproof insulation of buildings, but it is also used to absorb water. Whether for insulation or absorption, the material is extremely durable and fully recyclable in both cases. This is all to do with the processing of the inexhaustible raw material basalt stone. Machining basalt into stone wool elements is very similar to the way stone wool is formed in nature.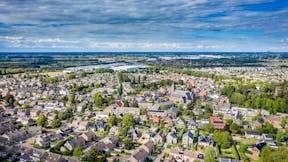 Climate adaptation in the urban environment
Rockflow offers sustainable solutions for the collection, infiltration and reuse of rainwater.