Circularity is not only an important issue from an environmental perspective, but also economically. The use of 100% circular stone wool elements as an infiltration buffer for rainwater makes a significant contribution here.
Although the use of absorbent stone wool is still relatively new in the field of water management, the material has been used (in a different form) for much longer. ROCKWOOL products, also made from stone wool, have been used for the insulation of buildings for decades. ROCKWOOL has had a stone wool recycling plant since 1992. Here, used stone wool elements and other residual flows from the building industry are converted into raw materials for new stone wool products.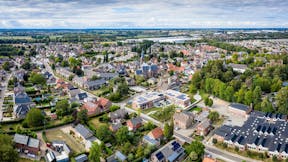 Climate adaptation in the urban environment
Rockflow offers sustainable solutions for the collection, infiltration and reuse of rainwater.