Rockflow, an underground water management system, has been successfully implemented in more than 100 projects. Rockflow is constructed of durable stone wool elements with a filtering effect. The design minimises the risk of contamination. Do you still want to be able to inspect or clean the system? This can easily be done with standard high-pressure equipment.
Rockflow is used to buffer rainwater and slowly release it into the soil. Thanks to the high absorption capacity of stone wool, much less material is needed to achieve the desired buffer volume than with traditional infiltration systems using, for example, gravel or lava stone. This often results in less excavation work and inconvenience. Rockflow can be used in virtually any place where flooding may occur. Under roads and streets, for example, but also under squares, parks or swales. Thanks to its high load-bearing capacity, Rockflow can also be used close to the surface.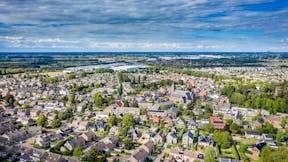 Climate adaptation in the urban environment
Rockflow offers sustainable solutions for the collection, infiltration and reuse of rainwater.