Once an infiltration system is underground, it has to perform at its best over the long term. Expert Rob Driessen explains how stone wool elements provide a reliable and sustainable solution.
Astonishment
"When the Rockflow elements are unloaded, people often react with astonishment," explains Rob Driessen, Rockflow infiltration systems expert. "Stone wool is not readily associated with an infiltration system that has sufficient load-bearing capacity for lorries to drive over it." Yet this is perfectly feasible, provided the system is set up in the right way.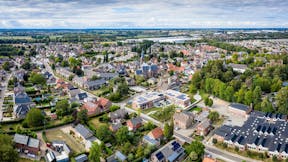 Climate adaptation in the urban environment
Rockflow offers sustainable solutions for the collection, infiltration and reuse of rainwater.